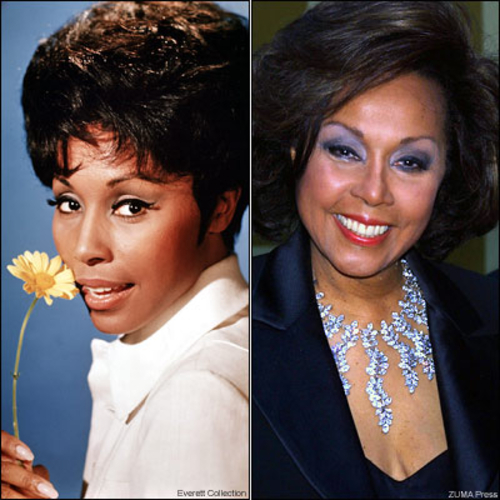 Ok, when I grow up give me another 13 years I want to be just like Diahann. Healthy, beautiful, sassy, rich, fabulous .
So the world is youth driven you say? we will be watching to see how far today's youth make it. Meanwhile we have our own "role models". Essence magazine writer Denene Millner uses these descriptive words as her opening line: " She is elegant and sharp-impeccably coiffed and unapologetically grand" I love that style of old world glamour and INTELLIGENCE--dumb beauties just don't cut it for me, obviously since I am not a male.
Diahann represents a woman of virtue, self-respect and verve. Can't recall her playing in any roles that were "subjugating" while I can recall the roles that the also beautiful Pam Grier, accepted.
This is the world of women that I was exposed to as a teenager. I have known a bunch of "Diahann Carrolls" in my life. Working in professions such as teachers, executives, business owners, homemakers, lawyers, doctors, authors, artists.
What a different world than today. Even my own two daughters "don't get it." I learned to let each generation enjoy their own creation, and luxuriate in the era in which I feel I was so blessed to be a part of.
The question remains, will today's beauties grow older majestically, or will the fast, fake life eventually take its toll.
Posted By: Marta Fernandez
Friday, March 6th 2009 at 11:07AM
You can also
click here to view all posts by this author...